COMPUTER NETOWRKING-UTP CABLES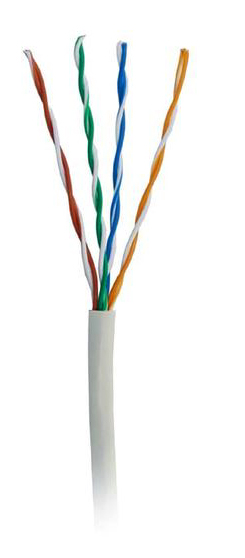 POWER-FLEX® Multi Core Flexible Cables
POWER-FLEX' CAT 5e / 6 UTP Cables are used in rapidly modernising computer networks. They form the core of data transmission in huge software complexes, industries and multistoried buildings. The high performance cables are suitable for transmission of voice, – video and data. The cable meets the requirements of EIA/TIA 568-B-1/B-2.
Conductor
Annealed bare electrolytic grade copper in both solid and stranded conductors.
Insulation
High density Polyethylene.
Pairs
Two insulated conductors are twisted together properly to minimize crosstalk. The four pairs are laid up together with suitable lay length.
Sheath
Outer sheath is provided with FR-PVC having high oxygen index and temperature index.
Colour code
1 Pair : White – Blue / Blue
2 Pair : White – Orange / Orange
3 Pair : White – Green / Green
4 Pair : White – Brown / Brown